Slovenia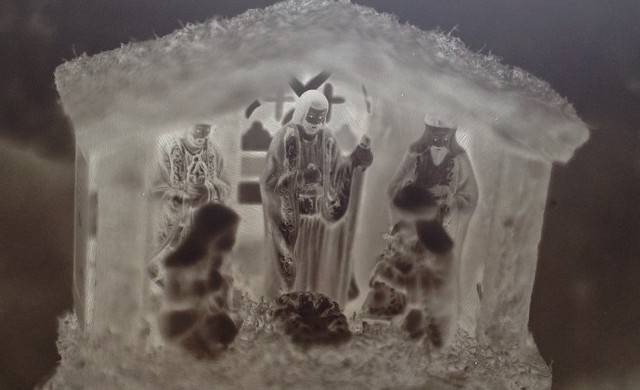 Asi po roce a půl práce s kolodiovými pozitivy jsem chtěl jít dál – pracovat s vlastními negativy.
Výhodou negativu, jak asi většina z nás ví, je možnost jeho opětovného použití.
Filmový negativ se v temné komoře používá pro výrobu fotografií na fotopapír nebo jiné světlocitlivé materiály. U kolodiového negativu tomu není jinak.
Využití je obdobné jen s tím rozdílem, že skleněný negativ se většinou používá na tzv. kontaktní tisk 1:1, viz Wikipedie.
Jedním z mých milníků v poznávání negativního kolodiového procesu bylo seznámení s profesionálním slovinským fotografem jménem Borut Peterlin. Jeho oficiální web je borutpeterlin.com, ale mnohem více aktivní je na svém blogu, který píše již asi deset let.
Borut vystudoval fotografii na FAMU v Praze a mimo jiné i díky tomu máme k sobě coby "cizinci" mnohem blíže.
Loni v létě jsem odjel do Slovinska, abych s Borutem absolvoval privátní workshop tvorby kolodiových negativů.
Borut, který se osobně účastnil několika workshopů v USA v George Eastman House v Rochesteru patří v Evropě mezi nejvíce zapálené profesionální fotografy, které jsem dosud poznal. Fotografie je jeho život. Jeho workshop pro mne byl spontánní a správná volba.
Předal mi během dvou dnů maximum informací, které v George Eastman House získal a pomohl mi tak snáze pochopit základní tvůrčí prvky pro další práci.
Borutova práce je pro mne nesmírně inspirativní a zajímavá.
Zcela určitě na mém blogu vydám samostatný článek o tomto umělci, se kterým jsem již delší dobu přátelím.
—
After about a year and a half of working with collodion positives I wanted to go further – to work with my own  collodion negatives.
The advantage of negative, how a lot of people know, is a possibility to use it for contact prints and other purposes.
Film negatives can be used in a darkroom to print photos on photo paper or other light-sensitive materials and with collodion negatives is the using almost the same.
Usage is similar with the only difference that the glass negatives are usually used for the so-called contact printing 1:1, see Wikipedia.
One of the milestones in my learning process of collodion negatives was my connection to a professional photographer Borut Peterlin. His official website is borutpeterlin.com, but much more active is his blog, which has been written by Borut for more than ten years.
Borut studied at FAMU in Prague and thanks to that fact we have much closer to each other.
Borut, who personally attended several workshops in the USA in George Eastman House, Rochester is one of Europe's most enthusiastic among professional photographers. To choose his workshop was for met the right choice. He gave me within two days maximum information he had got in the George Eastman House  and helped me to more easily understand the basic  elements for my future work.
Borut's work is for me extremely inspiring and interesting.
I will write on my blog an extra article about my friend Slovenian artist Borut Peterlin.
—
Náš testovací slaný tisk z našeho kolodiového negativu. Léto 2013, Slovinsko
—
Our test salt print from the collodion negative. Summer 2013, Slovenia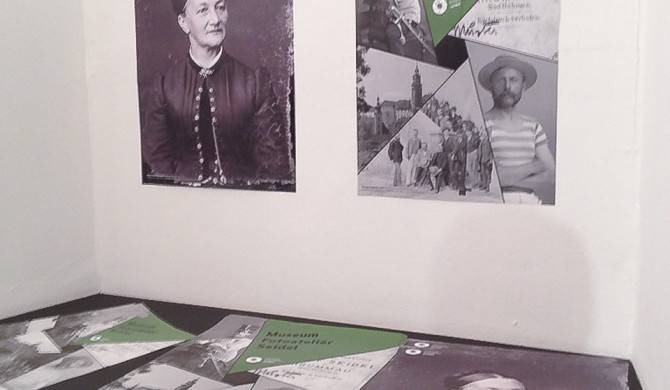 Seidel atelier výstava v Celje
O navštěvě fotoateliéru Josip Pelikan jsem psal zde. V tomto příspěvku se zmíním o výstavě fotoateliéru Seidel v Celje.
Není to náhoda, že se výstava konala právě v Celje. Důvodem je, že fotoateliéry Pelikan a Seidel mají mnoho společného.
Pokud se mi podařilo správně dohledat informace, tak právě atelier Seidel v Českém Krumlově byl po své rekonstrukci inspirací pro renovaci ateliéru Pelikan v Celje.
Expozice byla umístěna v prostorách Městského kulturního střediska v centru Celje. Obsahem výstavy byly Seidelovy fotografické práce.
Externí odkaz ohledně výstavy: http://www.muzej-nz-ce.si/10.5.2013-/-exhibition-of-photographic-studio-seidel-cesk-krumlov-/-photo-sebastian-weber
Přikládám několik fotografií, které jsem pořídil mobilním telefonem.
— ENGLISH TEXT —
Seidel photo atelier exhibition in Celje
About my visit of  the photo studio Josip Pelikan in Celje I wrote here.
In this article I will talk about the exhibition of the Atelier Seidel from Cesky Krumlov in Celje.
It's no coincidence that the exhibition was held in Celje. The reason was that Pelikan photographic studios and Seidel have much in common.
If I managed to trace the information correctly and precisely, the atelier Seidel in Czech Krumlov was after its reconstruction inspiration for the renovation of the studio Pelikan in Celje.
The exposition was housed on the premises of the Municipal Cultural Centre in the city of Celje. The contents of the exhibition was Seidel photographic work. Here are some photos that I had taken for his dossier mobile phone.
External link about the exhibition: http://www.muzej-nz-ce.si/10.5.2013-/-exhibition-of-photographic-studio-seidel-cesk-krumlov-/-photo-sebastian-weber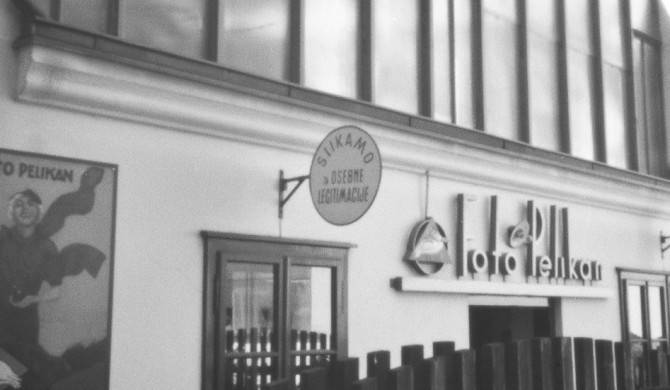 Wet Plate Collodion portraiture in skylight Studio Pelikan by Borut Peterlin from Marcos Núñez Cid on Vimeo.
Když jsem cestoval v roce 2013 Slovinskem, tak jsem si nemohl při jedné z cest nechat ujít navštěvu proskleného fotoateliéru Josip Pelikan v Celje.
Byla to dobrá příležitost setkat se s ním v tomto ateliéru, kde fotí portréty. Borut je známý slovinský fotograf, který se fotografickou profesí žíví více jak dvacet let. Jeho specializace posledních let je zejména v oblasti analogové oblasti fotografie. Pracuje hlavně s mokrým kolodiovým negativním a pozitivním procesem. Protože tímto procesem fotografuji také, tak máme vždy společné téma. Ale zpět k ateliéru Pelikan a panu Josipovi.
Josip Pelikan byl významným slovinským fotografem, který žil v 19. století. Dožil se vysokého věku, zemřel v roce 1977 ve svých 91 letech. Při toulkách městem Celjem se s ním i nyní můžete setkat. Ne tedy osobně, protože pan Pelikan již bohužel dlouho nežije, ale město Celje žije jeho odkazem. Dozvíte se o něm v městském kulturním centru, můžete si objednat prohlídku jeho ateliéru, anebo úplně náhodou objevíte jeho sochu, tak jako se to stalo mně. Stručné informace o Josipu Pelikanovi v češtině můžete získat  na stránkách Seidel ateliéru zde .
Když jsme přišli do ateliéru, tak na mě jako vždy udělal dojem krásného prostoru prosvětleného přirozeným světem. Prosklená studia již sama o sobě vypadají zvláštně. Jsou plna světla a přímo nutí fotografa k tomu, aby zde tvořil. Alespoň tak to vnímám já.
Na památku jsme si alespoň zhotovili společný dokumentační  portrét na samospoušť mojí digitální zrcadlovky.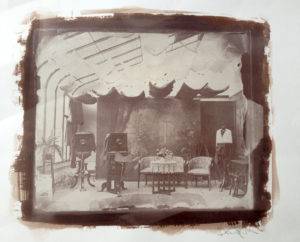 Josip Pelikan Studio – slaný tisk z kolodiového negativu od Boruta Peterlina, který vlastním.

Níže video z Borutova focení na mokré kolodium ve studiu Pelikan v Celje. Návštěvu tohoto místa doporučuji všem zájemcům o fotografii a její historii.
Kontakt na muzeum v Celje: http://www.muzej-nz-ce.si
—
Shortened English version:
​My visit in the skylight photographic studio Josip Pelikan in Celje, Slovenia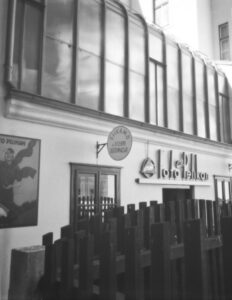 I have made one pinhole pictures of the Pelikan Studio.
When I traveled in the year 2013 through Slovenia I had great opportunity to visit the historical photography glass Pelikan studio in Celje.
I met there my friend Borut Peterlin who is a professional Slovenian photographer. It was a honor to visit the studio with him. Borut works mostly with analogue cameras and is a master of wet plate collodion process. I have attended Borut's wet plate collodion work shop and also work with wet plate collodion process.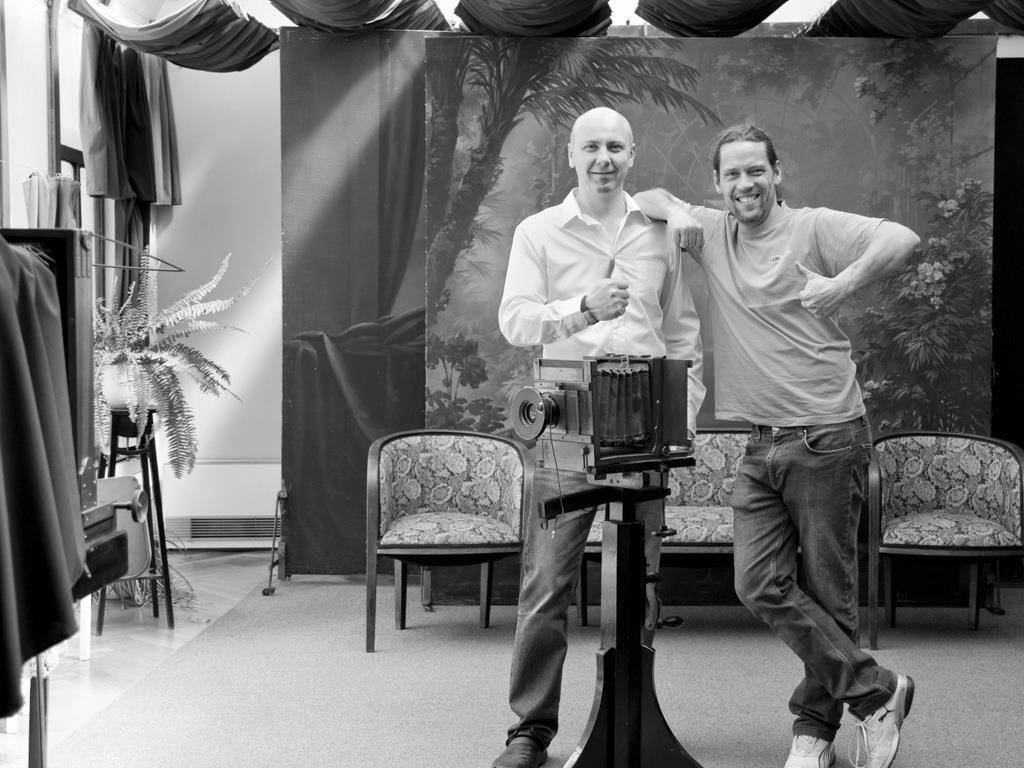 The Pelikan studio has its well known history and now is partially used as a exhibition room and also for photography sessions.
Borut showed me that very nice glass studio. He personally performs portrait sessions on wet plate collodion plates in the Pelikan studio.
We have documented our meeting on my digital camera. It was so pleasant to feel the historic atmosphere there. I thought how many people were here to have a portrait.
Josip Pelikan was notable Slovenian photographer and his original skylight photo studio from 1899 is now declared as a cultural monument located in Razlagova Street as a branch of the Celje Museum of Recent History.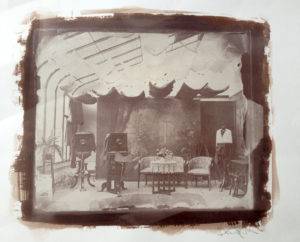 Josip Pelikan Studio – salt print from collodion negative, made by Borut Peterlin