Wet Plate Collodion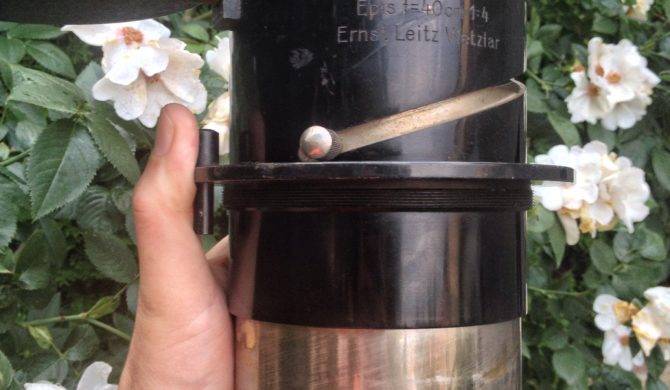 My "new" Epis 400mm lens, it's so big and heavy🐘 I can't wait to put it on one of my cameras and take some portraits with it!
—
Můj "nový" Leitz objektiv 400mm.
Pane, to je our 🐋 Ani jsem těch x kg nemohl udržet❗️Už se nemohu dočkat, až ho vyzkouším na portrét na jedné z mých kamer!
Věděli jste že: "Slovo Leica vzniklo ze spojení Leitz Camera?"
---
Epis Ernst Leitz Wetzlar 400mm 1:4 #kolodium #collodion #wetplate #photography #trebic https://t.co/C8DS1w9tGk https://t.co/itLMao4PQl

— Jan Kratochvíl (@kolodium) June 24, 2016
Vážení objektivu Leitz Wetzlar lens 400mm, f 4/ Weighing of the Epis Leitz Wetzlar lens 400mm, f 4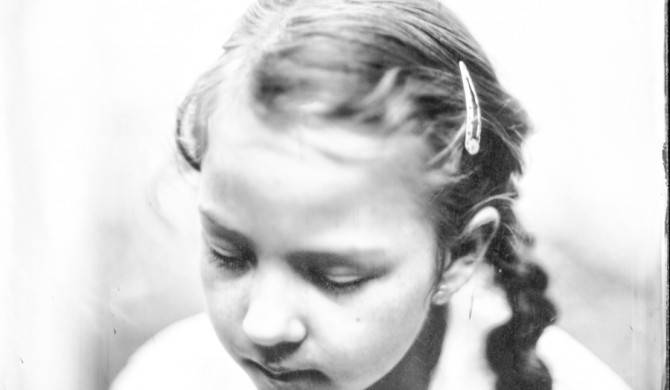 Olivie fotografovaná na kolodium / Olivie photographed on collodion
Fotografie na kolodium je v současnosti populární díky svému zvláštnímu a odlišnému vzhledu. Zejména, pokud ji porovnáváme s digitální fotografií.
Fotografování na mokré kolodium se věnuji asi čtyři roky, ale stále se učím něčemu novému. Dosahovat konzistentních výsledků se dá opravdu jen praktikováním činnosti, ve které chcete být zruční a dokonalí. Totéž platí i u tohoto druhu fotografické techniky.
Fotografuji na kolodium moji dceru Olivii asi tři a půl roku a během této doby jsem na sobě vypozoroval určité zdokonalení a hlavně pochopení nesčetných chyb, kterých se člověk hlavně na začátku dopouští.
Poněvadž si veškerou chemii připravuji sám, tak si dokážu kontrolovat celý proces od začátku až po finální lakování desky. Chyby nesprávně namíchané chemie jsou tedy chybami beze zbytku mými.
Na kolodium fotím především ve venkovním prostředí a vždy je to velká výzva. Zejména pokud chci dosáhnout nejen kompozičně, ale i technicky kvalitního výsledku. Vše vytváří ručně a musíte čelit prachu, větru a dalším venkovním nástrahám a neplánovaným překvapením. Proto je téměř nemožné v těchto podmínkách dosáhnout toho, že se vám na mokré kolodium něco neusadí, čehož se lze jen obtížně zbavit. Většinou má čištění jemné kolodiové vrstvy za následek její nevratné poškození.
Proto vždy obdivuji kvalitu originálů fotografií na mokré kolodium, které vznikly před více než sto lety a co do technické kvality jsou pro mne téměř dokonalé.
Velmi důležitá je příprava celého procesu. Vlastní focení je pak záležitost sice často fyzicky náročná, ale  velmi zajímavá.
A hlavně tvoříte vlastní dílo. Fyzické dílo, obraz, chcete-li fotografii, kterou vnímám jako odraz daného momentu do stříbřitého povrchu. Obraz, který je zobrazen na desce a je v ní záznam dopadu světla skrze sklo vetšinou starých objektivů, které bezchybně slouží desítky let.
Kolodium je pro mne zážitek a postupné objevování obsahu po polití vývojkou mi zatím nezevšednělo.
Jak říká můj kamarád Borut Peterlin. "Je lepší mít černé prsty od dusičnanu stříbrného, než červené oči z monitoru."
Níže je odkaz na menší prezentací portrétů Olivie na kolodium z let 2013 -2015.
Další fotografie na kolodium si můžete prohlédnou na flickru.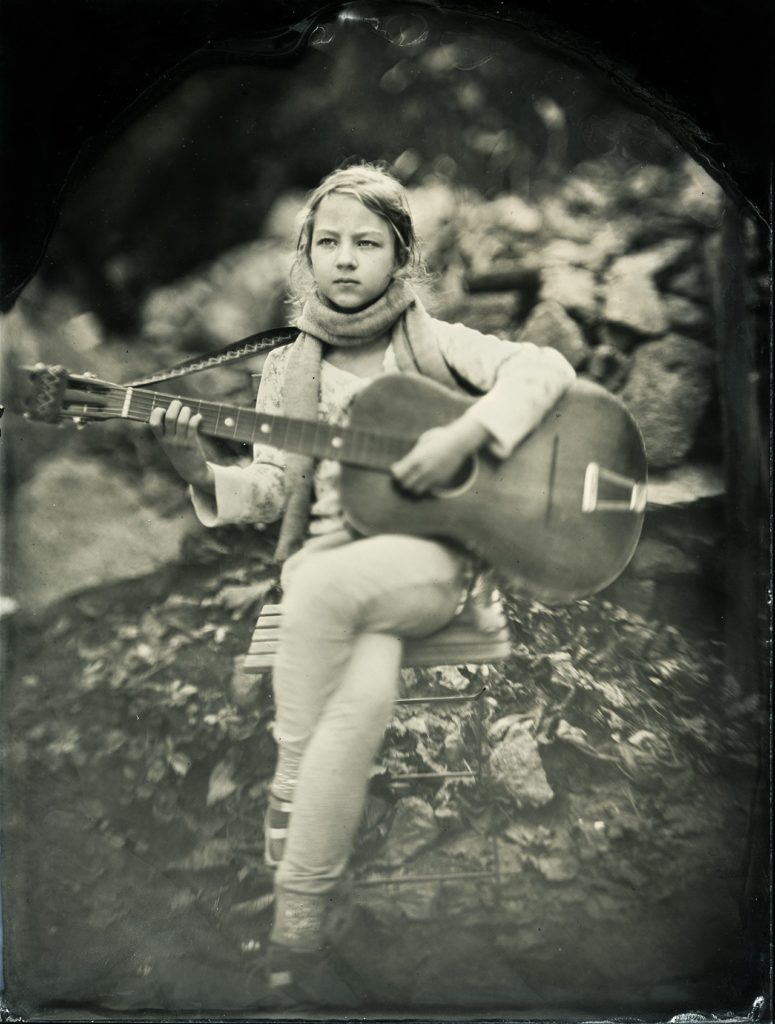 Olivie s její kytarou na ambrotypii (11-2015)/Olivie with her guitar on ambrotype (11-2015)
Eastman Kodak 2D 8×10", 18×24 cm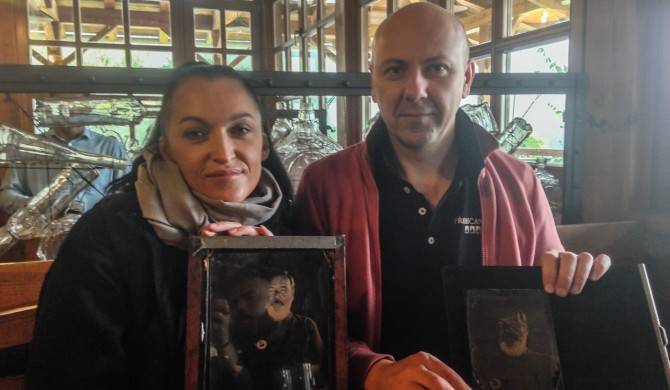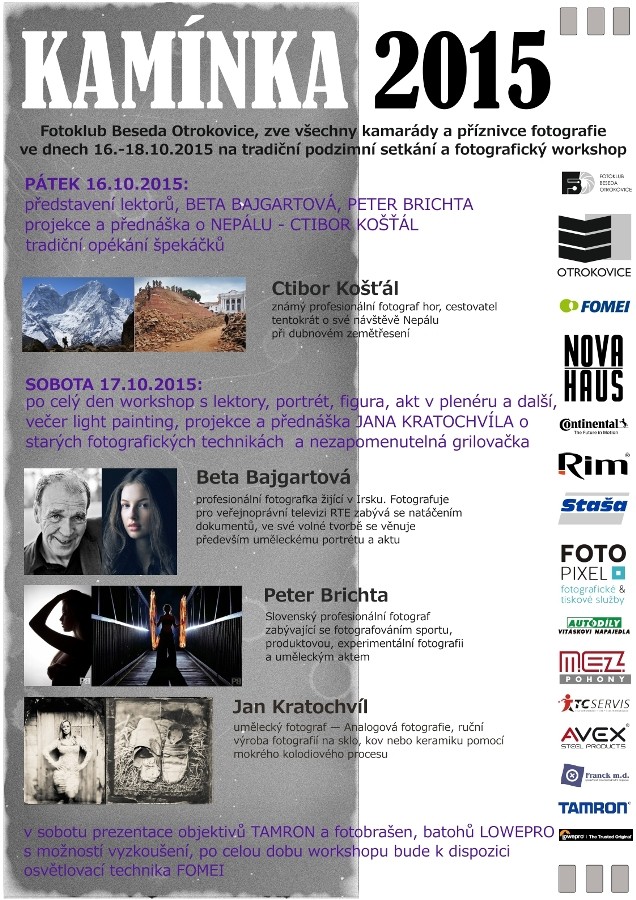 Děkuji FOMEI Slovakia s.r.o. týmu (především Marta Blusková Uhrinkova) za perfektní spolupráci v novém pro mne dosud neznámém prostředí Kamínky.
Byla to velká výzva vyzkoušet poprvé Fomei světla s kolodiem. Bez Fomei týmu a jejich světel bych to nezvládl.
Škoda, že nebylo více času, ta třetí expozice by byla ta správná 🙂 Ale o to při prezenci až tak nešlo.
Věřím, že jsme se neviděli naposledy.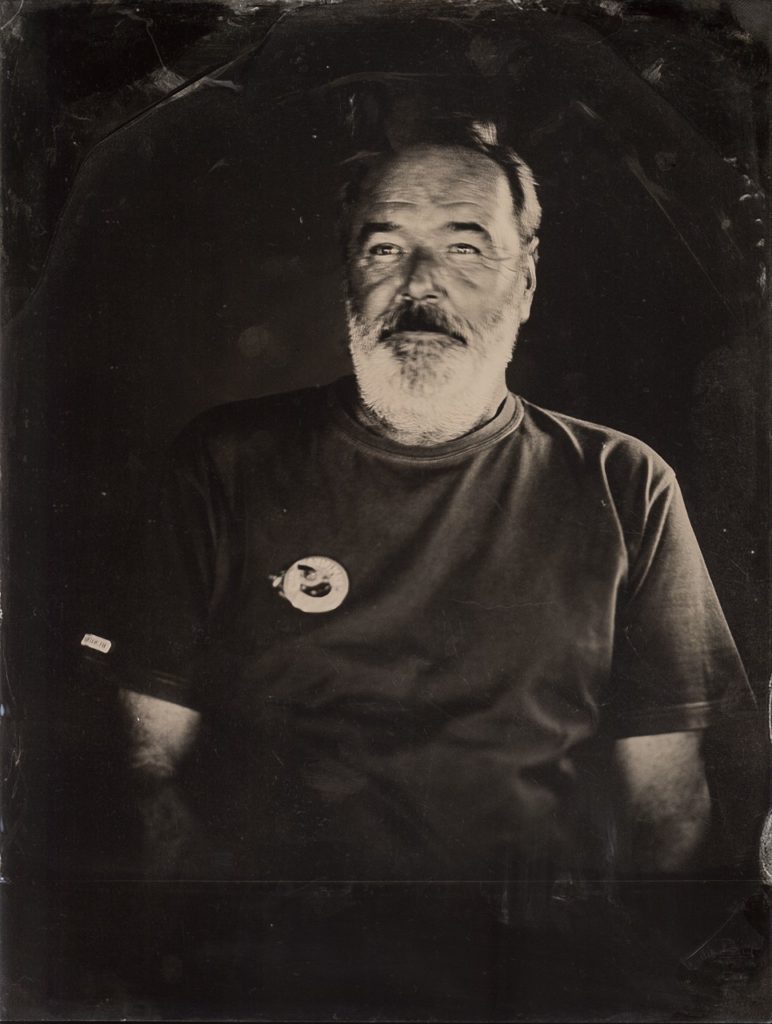 — ENGLISH VERSION—
Thank you FOMEI Slovakia! (especially Marta Blusková Uhrinkova) for the excellent cooperation in unknown environment. It was a big challenge to use not tested Fomei speed light. Without you I would not have done it. If we have more time the 3rd exposure is the correct one 🙂
I believe that we can meet again.
Here is the scanned ambrotype.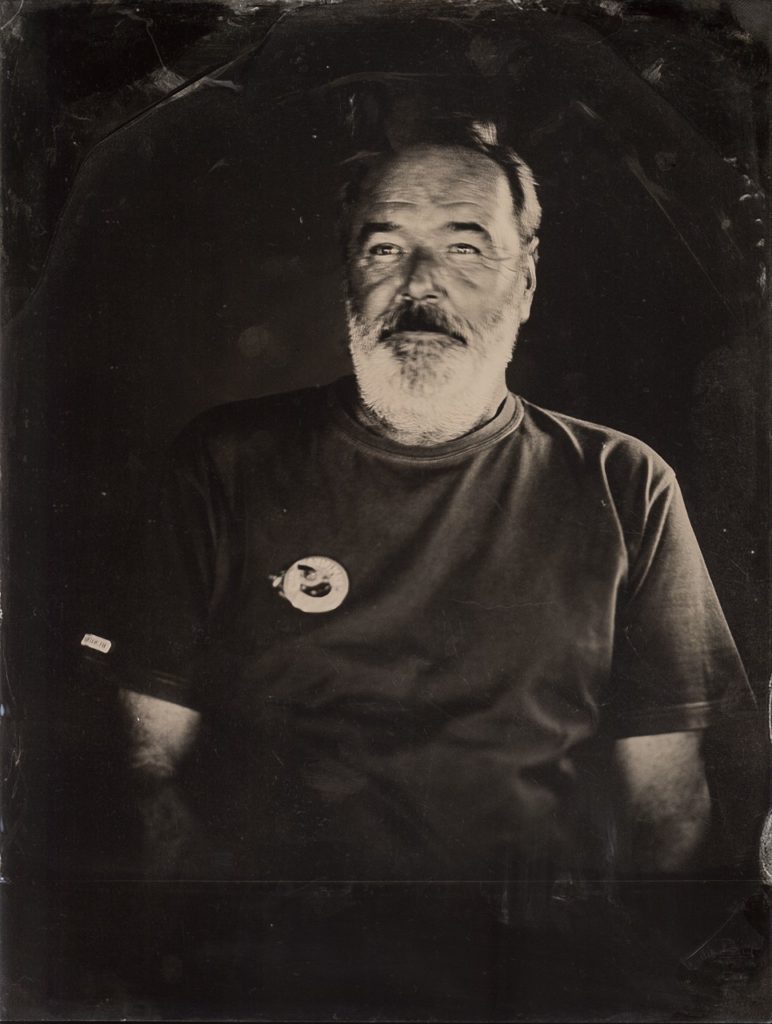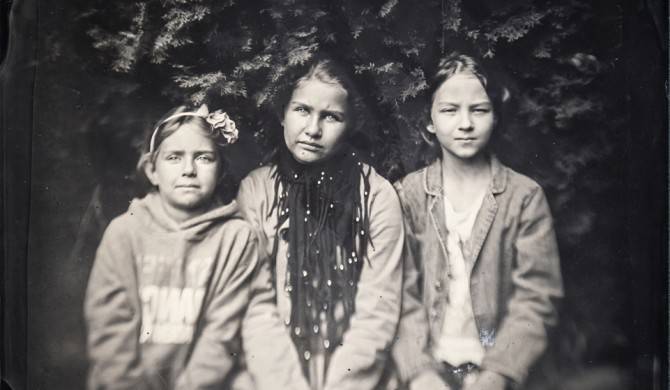 Pokud se podíváte na starých fotografiích do tváří lidí, tak máte většinou dojem zasmušilého, strnulého či upřeného výrazu. Je tomu tak? Ano, fotografie focené v 19. a na začátku 20. století vyžadovaly jistou soustředěnost. Nemyslím si, že lidé byli více smutní než je tomu v dnešní době. Pokud se zaměřím na výraz v portrétu, tak je třeba vzít v potaz tento fakt: Fotografie tvořená postupy, které dnes nazýváme historickými technikami, byla bezesporu mnohem náročnější pro portrétované a neméně i pro fotografa. V čem ona náročnost spočívala? Zůstanu u mokrého kolodiového procesu, kterému se intenzivně věnuji asi 4 roky a zkusím popsat svůj pohled, svoji zkušenost. (Pozn. Základní popis, co je kolodiový proces je také na mém webu kolodium.cz nebo zde či detailnější informace na Wikipedii.)
Co vše tedy ovlivňovalo výraz portrétovaných?
Fotografie nebyla běžnou denní záležitostí a lidé (asi valná většina) si to během focení jednotlivě uvědomovali.

Pozn. Je všeobecně známo, že lidé dříve vlastnili pouze několik fotografií z dětství. Někdy bohužel žádné. Až rozmach fotografie díky průmyslové produkci filmu zpřístupnil volnost fotografování téměř všem. Samozřejmě na začátku byla opět finanční bariéra, která bránila všem nadšencům a fotoamatérům více s fotografií experimentovat. Fotografické služby nebyly levné. Ne každý si je mohl dovolit.

Prostředí ateliéru / exteriéru; nové, neznáme neznámé prostředí.

Délky expozice u kolodiové fotografie byly podřízeny přirozeným světelným podmínkám interiéru či exteriéru. Expozice v prosklených ateliérech, jako je například ateliér Seidel v Českém Krumlově byly v řádu sekund. Délky expozicí byly někdy půl minuty i déle.

Příprava ze strany fotografa

Fotograf, který se připravoval na focení na kolodium ve svém ateliéru to měl daleko snazší, neboť znal své prostředí. Také nemusel řešit problém se změnou počasí, jestli prší nebo fouká vítr a podobné situace. Neméně významná byla čistota prostředí ateliéru, která zajišťovala mnohem lepší podmínky pro zhotovení technicky kvalitních fotografií.

Kompozice portrétů bylo nutno pečlivě připravit před vlastním provedení expozice. Jedním z důvodů při focení na kolodium je fakt, že po vyjmutí mokré desky ze zcitlivovače (stříbrné lázně) měl fotograf pouze několik minut na vyfocení, okamžité vyvolání a následném ustálení snímku.
Lidská nervozita, strach ze selhání – zkažení snímku.
Příprava portrétované osob

Oblečení, stylové doplňky, často i drobné detaily byly kontrolovány, aby byl výsledek co nejpůsobivější.
Všechny výše uvedené skutečnosti ovlivňovaly výrazy a pózy portrétovaných lidí. Nezapomínejme samozřejmě na lidské subjektivní pocity a nálady (radost, smutek), charakter člověka…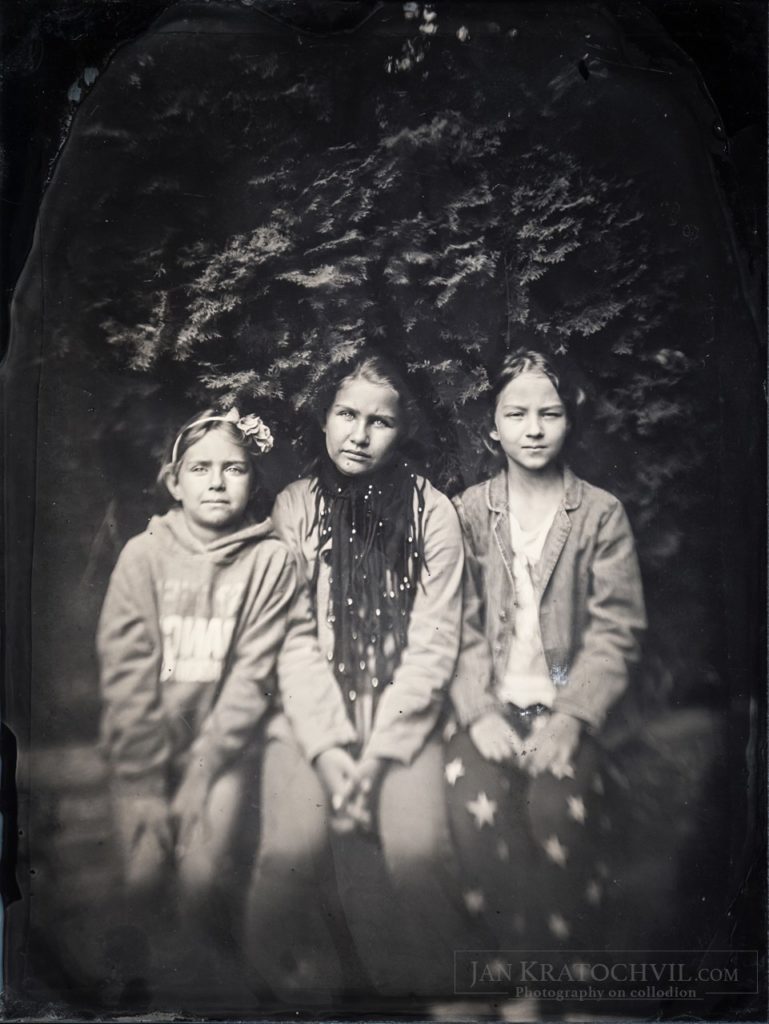 Informace k portrétu dětí na kolodium v tomto příspěvku:
Technika: Eastman Kodak 2D, 8×10″, 260mm
Ambrotypie 18x24cm, čiré sklo: clona 4, čas: asi 4 sekundy
Rozlišení skenu: 93 Mpx
Datum focení: 3. 10.2015
Soustředěnost dívenky s čelenkou, jistou odevzdanost její sestry uprostřed a již určitá zkušená připravenost mé dcery Olivie – takto bych si dovolil pojmenovat moje osobní pocity, které vnímám z výrazu těchto dětských tváří. Příští portrét jistě zvládnou minimálně tak dobře jako při prvním focení.
Níže snímek z mobilu, který vypovídá o radosti po prvním úspěšném focení mokrým kolodiovým procesem.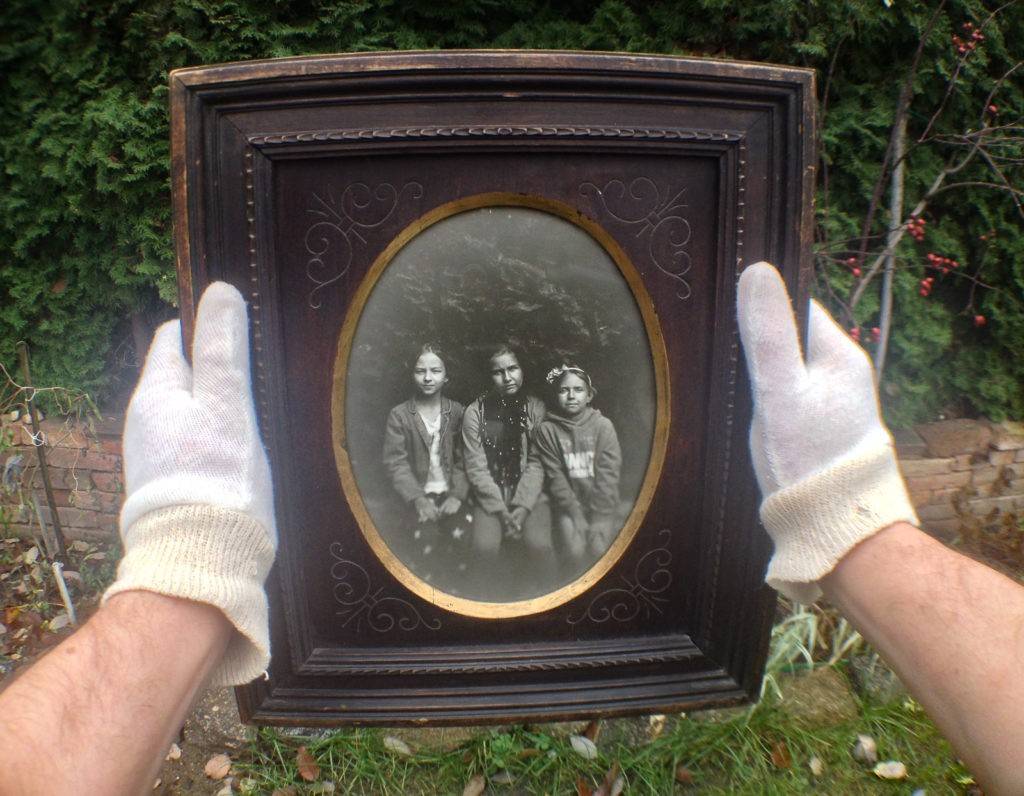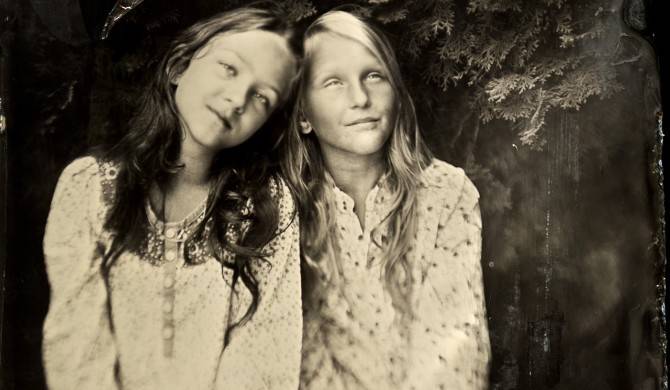 At the beginning there was a broken glass from our fire place. Now exists a nice photo. (Česká verze příspěvku viz níže.)
Note: Ambrotype is the kind of picture formed by the wet collodion process. Ambrotype may be created e.g. on clear glass. The basis of wet collodion  process is silver nitrate which is used for sensitizing. The result of the wet collodion process is a picture formed of silver, in other words, the bright parts of the picture is reacted silver that goes into halftones and dark areas of the photo.
Ever since I started to photograph on glass or similar material, so I frequently during normal contact with this material think of using it for photography. There was no exception when I replaced the cracked heat-resistant glass on the stove. The glass was broken and I needed to replace it. I took the glass, the glass was old and smoky. But I looked at the glass parts more and more.  I decided to use one broken part for an Ambrotype.
I measured the best piece of the broken glass which will be modified the for the size of the plate holder.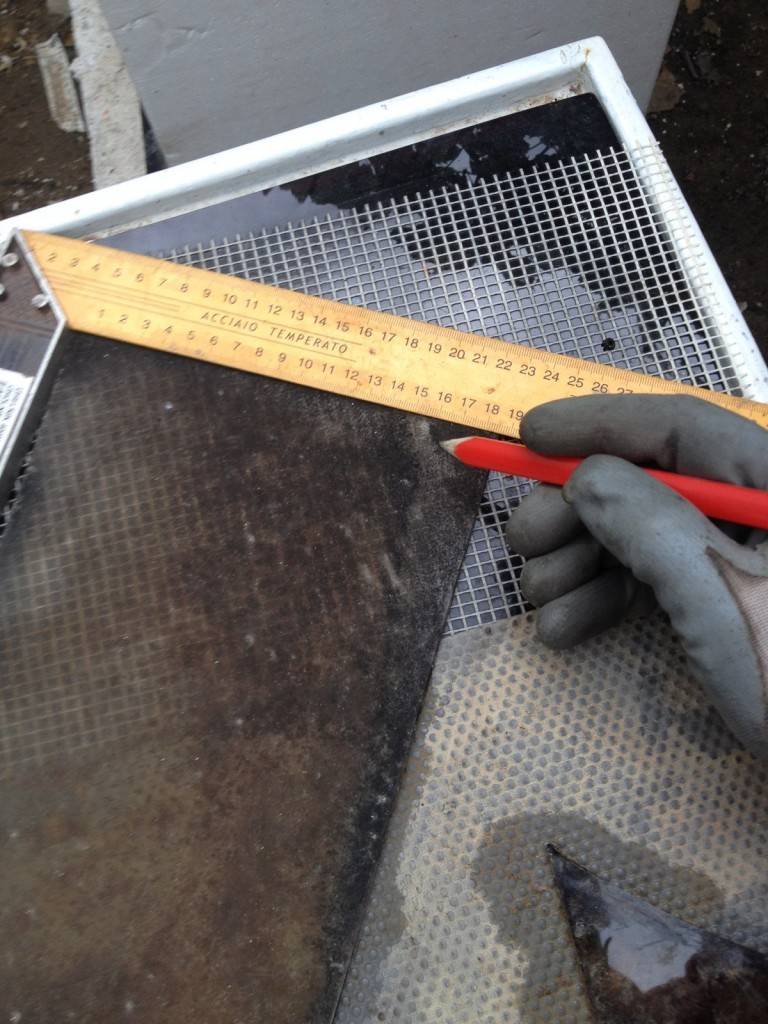 I cut the glass with angle grinder. Glass frayed edges gave the plate the right raw character of the used material for using with wet plate collodion process.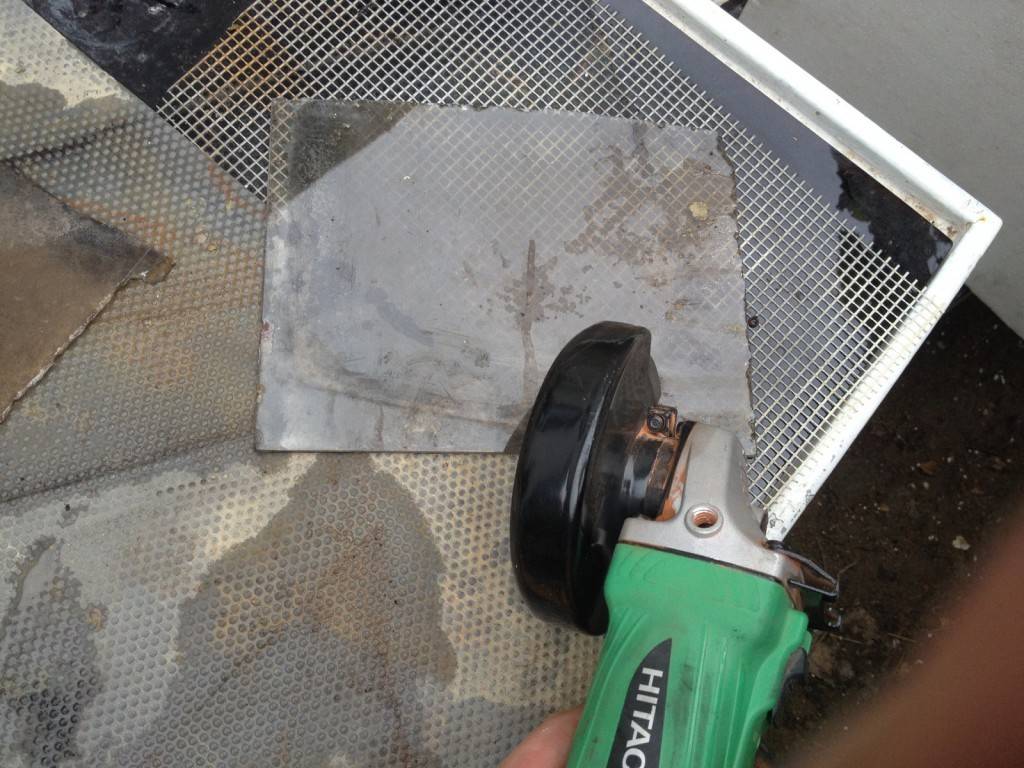 I created a shape that I could insert in the plate holder.
My goal was not for this glass material to achieve perfection or precision. The properly cleaned glass from our stove is ready for using for Ambrotype.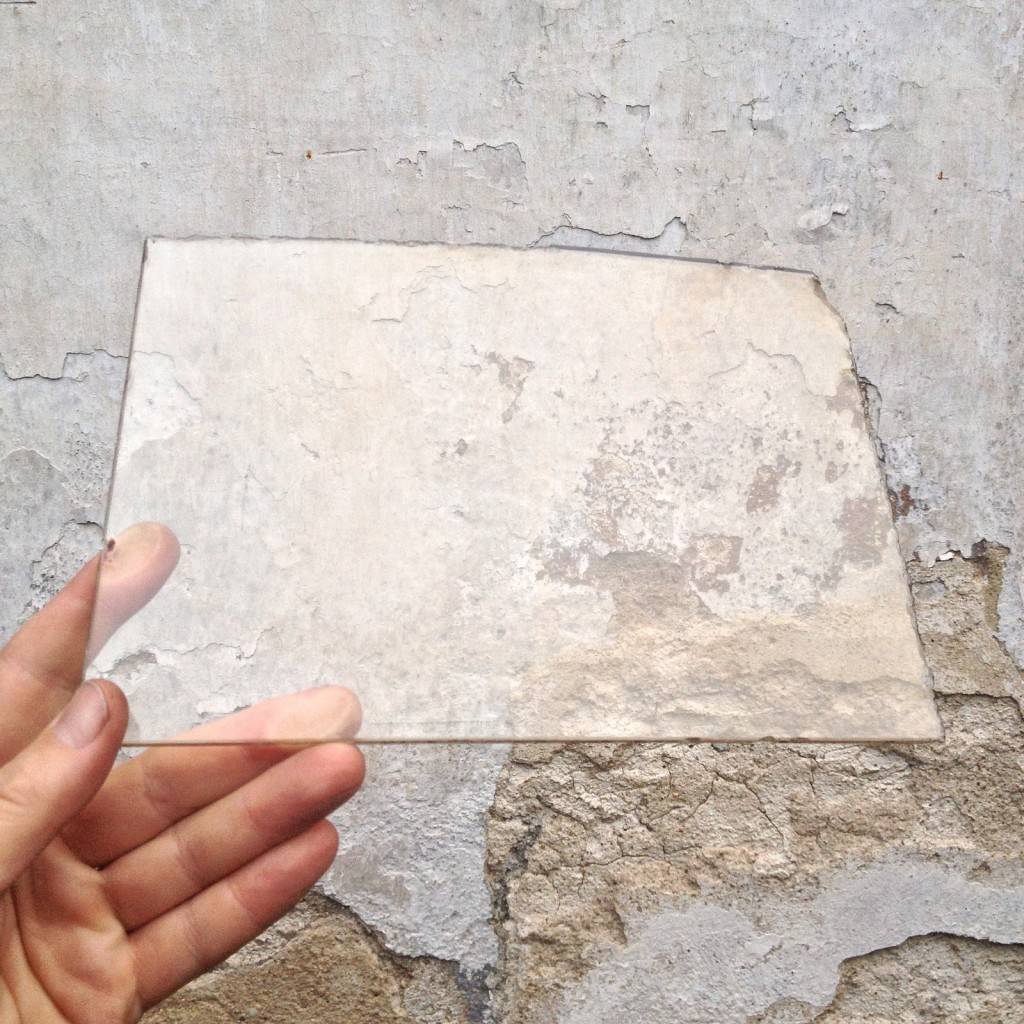 After that there was selection of appropriate models 🙂
Olivie and Julie are already experienced models and know what shooting is all about. So I assumed that the result will succeed for the first time. Girls who love making videos, and there is one before collodion photo shoot 😉
After taking the portrait was followed the next day sandarac varnish coating. It is one of the last and most important steps before the frame adjustment, or saving of the plate in a case.
For the photo shoot, I chose the 260 mm lens, which is pretty fast  and  guaranteed shorter exposure time that was about 5 seconds. The size of the glass plate is 18×24 cm, 4 mm glass. Photographed: September 28, 2015 in Trebic. And here is the result. From this Ambrotype (slightly overexposted – tends to a negative) can be also made a print. And I will make it later,
Česká verze příspěvku
Na začátku bylo prasklé sklo u krbových kamen, na konci je kolodiová fotografie (Ambrotypie).
Pozn. Ambrotypie je druh fotografie tvořené mokrým kolodiovým procesem. Ambrotypie může být tvořena např. na čiré sklo. Základem mokrého kolodiového procesu je dusičnan stříbrný, pomocí kterého se vytváří světlocitlivá vrstva. Výsledkem mokrého kolodiového procesu je (zjednodušeně laicky řečeno) fotografie tvořená stříbrem, jinými slovy světlé části fotografie je zreagované stříbro, které přechází do polotónů a tmavších částí fotografie.
Od té doby co jsem začal tvořit fotografii na sklo nebo podobný materiál, tak mne často při běžném kontaktu s tímto materiálem napadne použít ho pro fotografii. Ne jinak tomu bylo když jsem se chystal vyměnit prasklé žáruvzdorné sklo u krbových kamen. Sklo, které sloužilo v kamnech několik let prasklo mechanickým poškozením nezbývalo, než ho vyměnit. Při vyjmutí skla z litinového rámu a instalaci nového skla zůstalo staré sklo ležet na stole a bylo přichystáno na vyhození. Sklo bylo hodně zašlé a hodně začouzené. Ale při pohledu na tyto zbytky silného skla, které bylo rozlomené na několik částí  mne napadlo vyčistit ho použít pro tvorbu Ambrotypie.
Změřil jsem si nejvhodnější část rozbitého skla, které se bude muset upravit pro velikost fotografické kazety.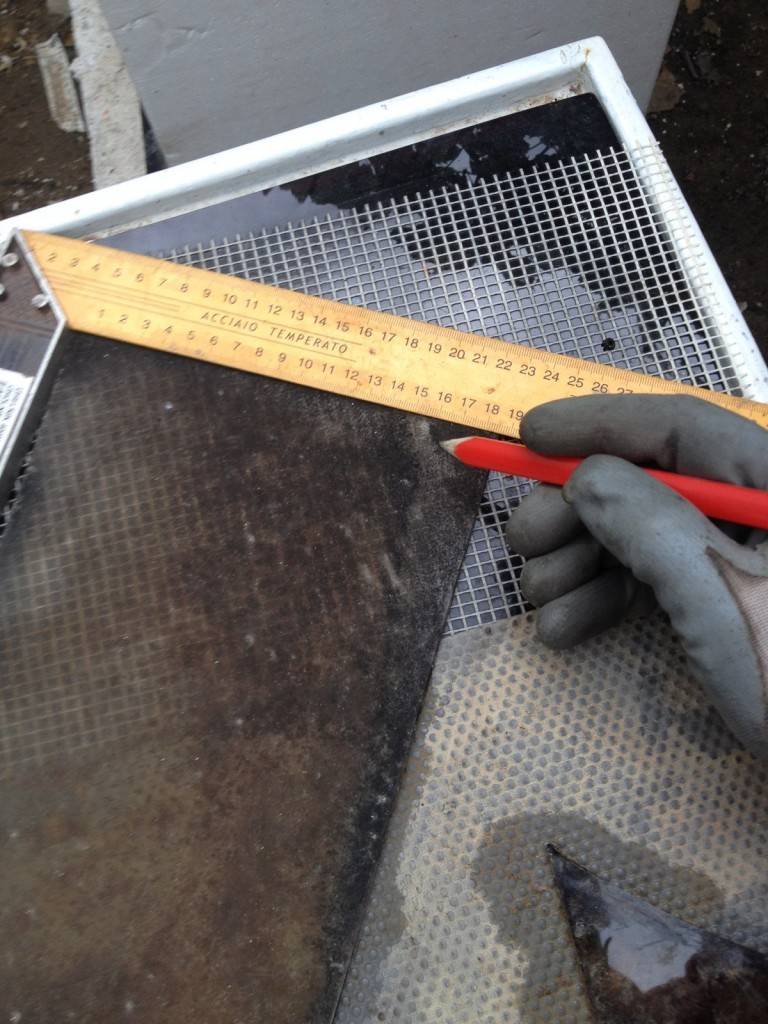 Sklo jsem uřízl úhlovou bruskou. Otřepené skleněné okraje daly desce ten správný syrový charakter opotřebeného materiálu pro použití při focení na kolodium.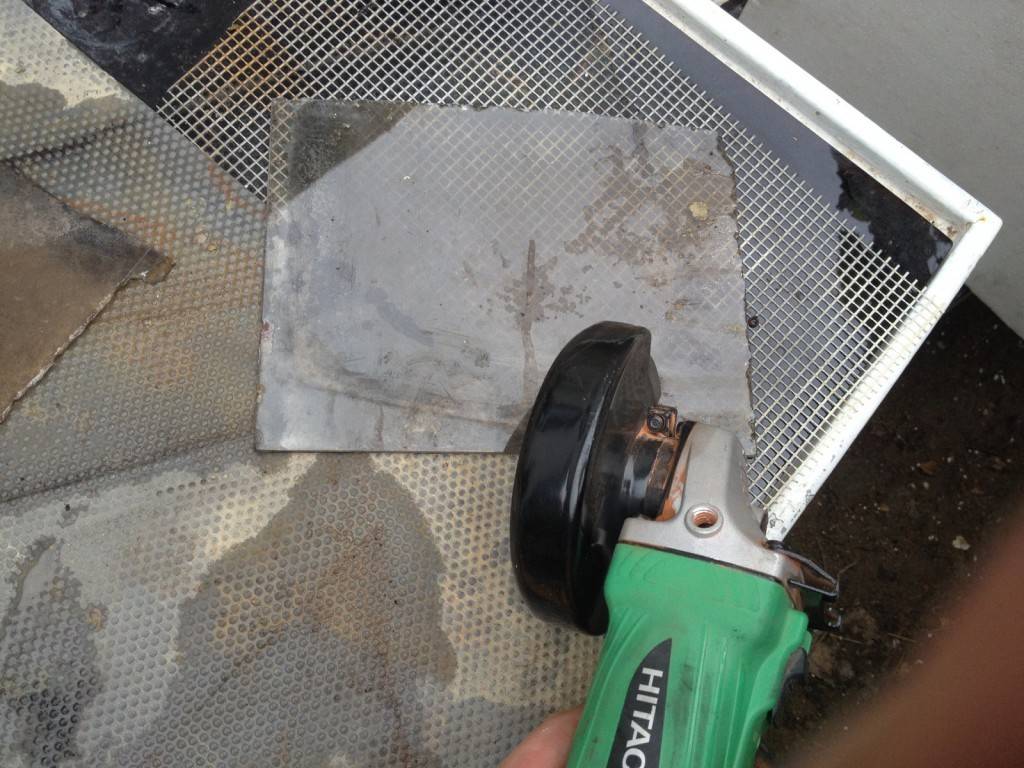 Vznikl použitelný tvar, který jsem mohl vložit do kazety.
Po důkladném vyčištění skla vzniklo médium, které bude možno umístit do fotografické kazety.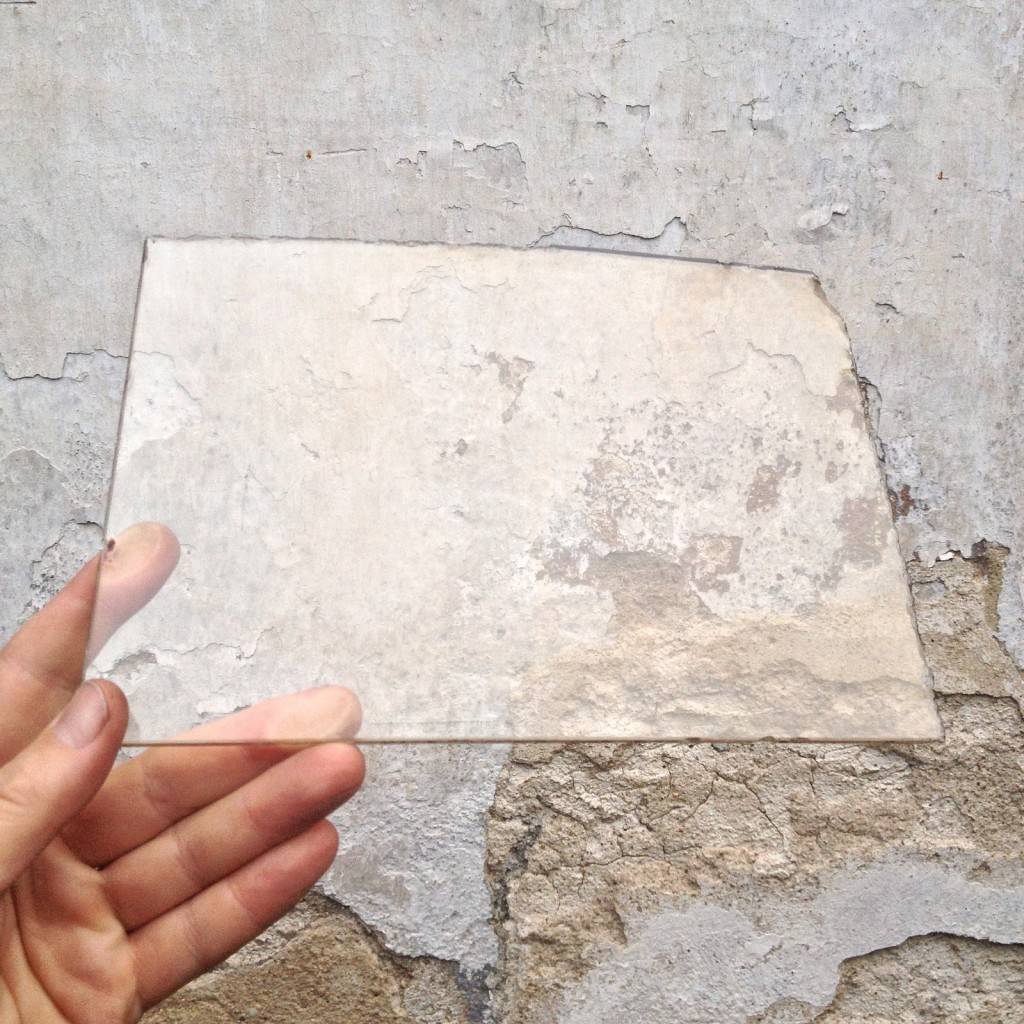 Mým cílem nebylo u tohoto skleněného materiálu dosáhnout dokonalosti nebo přesnosti. Proto vzniklý tvar má typický uštípané rohy, které vznikly při kontaktu s řezným kotoučem.
Poté následoval výběr vhodných modelek 🙂
Olivie s Julií už jsou ostřílené kolodiové modelky a vědí, co focení obnáší. Takže jsem předpokládal, že se výsledek napoprvé podaří. Holky mají rády natáčení videí, tak zde je jedno před focením 🙂
Po vyfocení portrétu následovalo druhý den lakování sandarakovým lakem. Jedná se o jeden z posledních a nejdůležitějších kroků před adjustací do rámu nebo uložení desky do kazety.
Pro focení jsem vybral objektiv 260mm, který je dost světelný a zaručil mi kratší expozici, která byla asi 5 sekund. Velikost skleněné desky asi 18×24 cm, síla skla 4 mm. Foceno 28.9.2015 v Třebíči. A zde je výsledek – Ambrotypie – lehce přeexponovaná, má dost denzity na to, aby z ní šla vyzkoušet v temné komoře kontaktní tisk fotografie na fotopapír.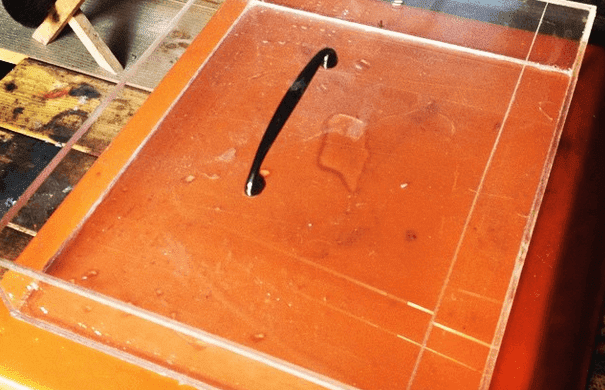 V tomto krátkém videu Vám předvedu, jak vložit fotografickou desku do zcitlivovače.
Na začátku krátké upozornění z hlediska bezpečnosti: důrazně doporučuji předem absolvovat workshop nebo se školení práce s chemií, se kterou se mokrým kolodiovým procesem pracuje, abyste se vyvarovali případných vážných zdravotních problémů.
Toto je jedna z možností oproti používání klasického tanku, který je ve vertikální poloze.
Výhodou zcitlivování v této speciálně vyrobené misce spatřují zejména v úspoře dusičnanu stříbrného, který se používá pro zcitlivování.
Každá mince má ovšem dvě strany, tím chci říct, že zcitlivování v misce má i své nevýhody. Jednou z hlavních je, že si více kontaminujete stříbrnou lázeň.
English text:
In this video I wanna show you how to insert the plate into the silver bath tray.
BEFORE ATTEMPTING WETPLATE COLLODION PHOTOGRAPHY, BE SURE TO FAMILIARIZE YOURSELF WITH THE CHEMICAL HAZARDS ASSOCIATED WITH THIS PROCESS.  SEVERAL CHEMICALS USED IN THE PROCESS ARE EXTREMELY HAZARDOUS, EXTREMELY POISONOUS, CARCINOGENIC, EXTREMELY FLAMMABLE, AND/OR POTENTIALLY EXPLOSIVE.

Plus:  With the tray you can save lots of silver for the plate sensitizing.
Minus: The negative thing is you more contaminate your bath, because of the same solvents and other stuff you have in you wet collodion plate.
How to insert the plate into the silver bath tray from Jan Kratochvíl on Vimeo.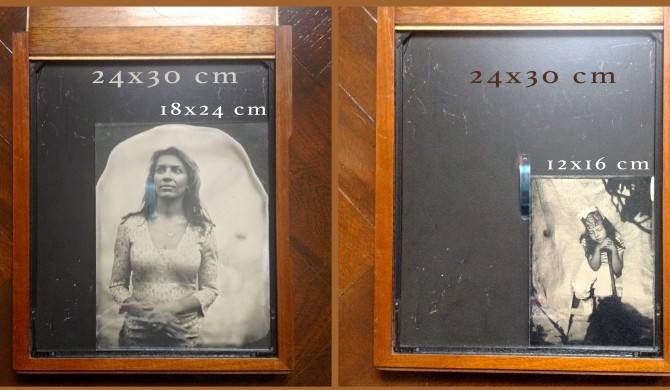 Odpověď na otázku, kdy na velikosti záleží není jednoduchá. Mám samozřejmě na mysli velikost fotografie 🙂 přesněji řečeno fotografické desky pro tvorbu kolodiových pozitivů a negativů.
Po mé téměř čtyřleté praxi s mokrými kolodiovými deskami jsem postupně přešel na větší velikost. V současné době (1.3. 2015) začínám pracovat s velikostí do 24×30 cm.
Důvod proč jsem si pořídil formát větší než 18×24 cm je prostý – začal jsem pracovat s negativy a pro kontaktní tisky, které jsou 1:1 je velikost 24×30 cm již poměrně velká.
Původně jsem začal fotit na kolodium středoformátovým Hasselbladem, který občas nadále pro kolodium využívám. Ale kdo okusí velikost negativu, tak se těžko vrací zpátky. Proto v mojí současné tvorbě preferuji větší formát.
S větší velikostí samozřejmě rostou i náklady na tvorbu větších desek. Plocha destičky 6×6 cm je 36 cm2, u formátu 24×30 cm je to úctyhodných  720 cm2.
Původně jsem si pohrával i s myšlenkou postavit kameru 25×25″, tedy 63,5 x 63,5 cm.
Snažím se ale více zaměřovat na obsah než řešit velikost. Někde jsem ale četl, že ve větší velikosti se dá objevit i něco "navíc" a může Vás tak inspiračně obohatit  pro Vaši další tvorbu.
Až nabudu pocitu, že můj obsah 24×30 cm by bylo zajímavé mít i na větší originální desce, tak se do toho směle pustím.
Zatím ale zůstám nohama na zemi a více se soustředím na obsah.
Končím pány Southworth a Hawes  "Quality over quantity".
English text:
The answer to the question when the size matters is not easy. I of course mean the size of a photograph 🙂 More precisely said the plate size for making collodion positives and negatives.
After nearly four years of my practice with wet collodion plates, I gradually moved to a larger size. Currently (01/03 2015) I start to play with the size 24×30 cm.
The reason why I have bought a camera with larger plate dimension than 18×24 cm is simple – I started to work with negatives and contact prints. The contact prints are in the same size like the negatives.
Originally I started taking photos on collodion with the medium format Hasselblad. But who will try the size of bigger negatives is then difficult to return back. Therefore, in my current work, I prefer larger format than 6×6 cm plate.
With larger sizes increase the costs rapidly. The plate 6×6 cm is 36 cm2, by the format 24×30 cm has the plates its respectable 720 cm2.
Some time ago I played with the idea of building a camera 25×25 ", this means 63.5 x 63.5 cm. But now I am trying to focus more on image content than deal with the size.
I have read somewhere that in a larger size you can discover something "special" and so you can enrich your inspiration for your next creations.
When will come a feeling that my content 24×30 cm would be interesting in larger plate size then I will consider to try an other dimenstion.
But so far I am staying with my feet on the ground and focus more on the content.
Like Southworth and Hawes masters said: "Quality over quantity ".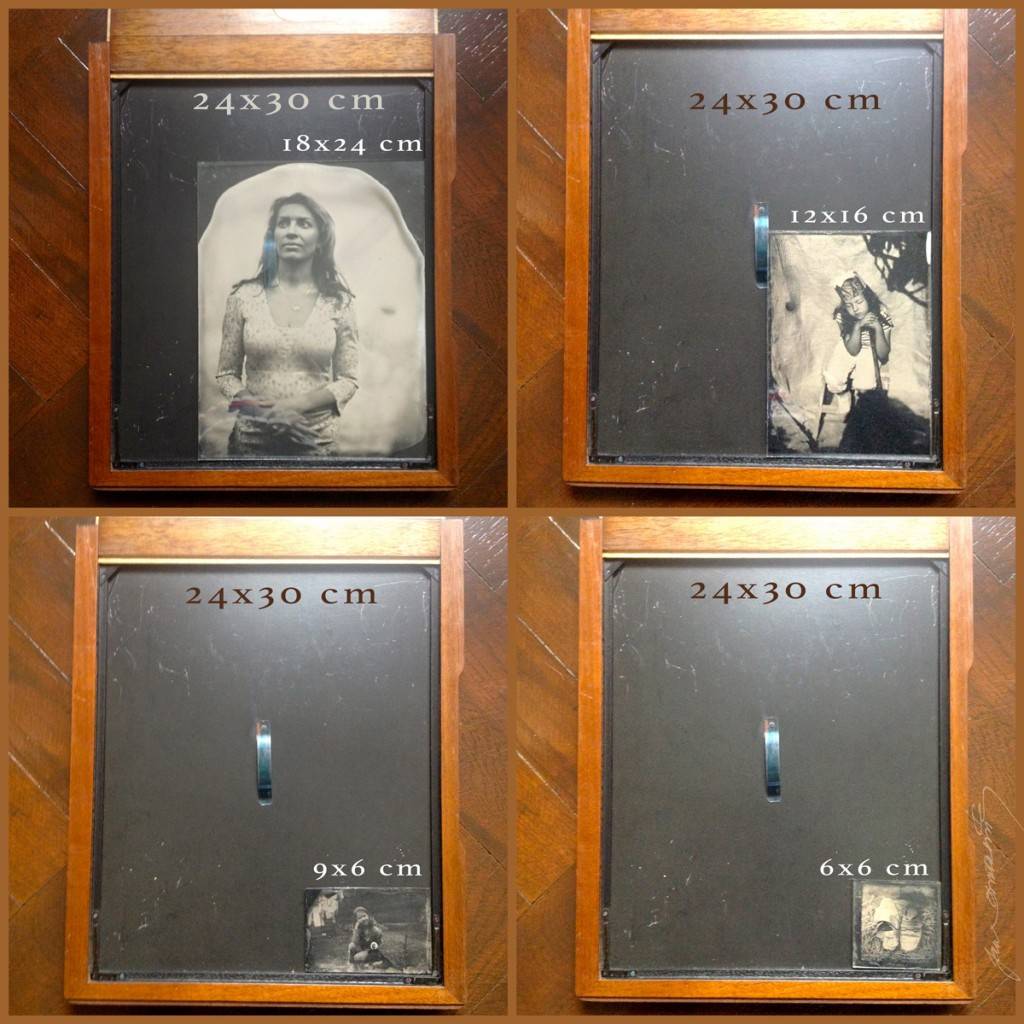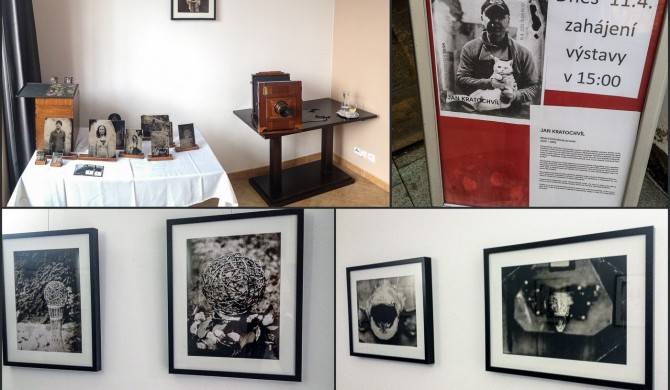 Některé z mých digitálních tisků z Ambrotypií jsem konečně pověsil na zeď.
Tisky jsou 29 x 39 cm. Rámy RIBBA jsou zakoupeny v IKEA.
—
Some of my digital prints from my wetplate photos finally hanging on my wall.
These prints ae 29 x 39 cm. I have used frames from RIBBA series.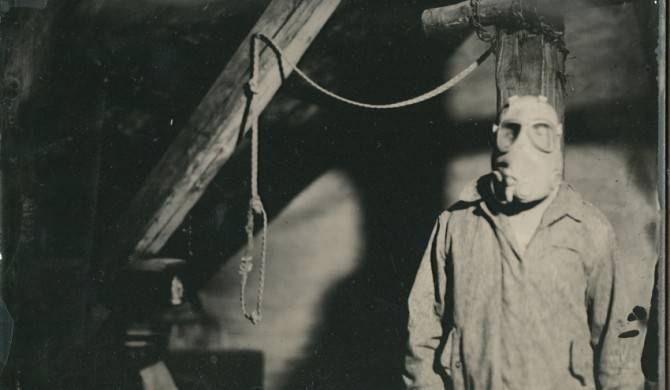 Rozhovor, který je níže v anglickém jazyce vznikl po vytvoření mé fotografie pro mezinárodní projekt s názvem The Mask Series.
Tento projekt vytvořil Američan Shane Balkowitsch. Záměrem projektu fotografování scény/kompozice s plynovou maskou M10.  K této masce mám zvláštní vztah z doby, kdy jsem ji na vojně musel používat.
Proto mne napadlo oslovit moji přítelkyni, anglickou spisovatelku Melanie, které jsem sdělil své zážitky s plynovou maskou M10 ve vojenské službě.
Melanie mi později navrhla udělat na toto téma udělat rozhovor.
 English:
Original post of this article: ON PORTRAIT OF THE ARTIST
When the Mask Series first began, back in the halcyon days of 2012. it quickly became clear that our illustrious common prop, a vintage M10 Gas Mask came with greater associations for some participants than others.  So we were delighted when Czech photographer Jan Kratochvil agreed to share some of his personal recollections about the M10, and more general thoughts about what it will be like having complete power over what happens to his old nemesis (at least until it's time to stick it in the post to the next artist in the queue…!)
1. CAN YOU GIVE US A BIT OF BACKGROUND ABOUT YOUR MILITARY SERVICE?
I did two years'military service –which was compulsory in my country between 1868 and 2004. It was a strange experience for me, and the friends I had made there, as it coincided with Velvet Revolution (or, the end of the communist rule in the former Czechoslovakia). During this time, while my friends and I were aware that 'something'was going on, we weren't sure what it was because, together with the rest of the military, we found ourselves suddenly confined to barracks in November and December 1989. In practice, this meant we were not allowed to leave the premises at all –even to go for a walk. There was only one TV on the site, and we were forbidden to touch it, and listening to radio was also strictly prohibited. Naturally, our lockers and personal effects were subject to random searches.
I've done a bit of research for this article, trying to pinpoint the exact dates, and have discovered that it varied from barracks to barracks, and city to city, depending on the politics of local military officers. These decisions were being made on the ground.   The reason they confined us all to barracks is simple: they wanted to hide the situation from us. It worked. Our casern was in a forest close to village Bzenov and our unit had no clue about revolution movements in Prague and protests in other bigger cities in Czechoslovakia.
But then one day, myself and my driver Jiri (nickname George – in the picture the first person on the right) were sent to buy food and beverages for our unit. It was then, in the town of Presov that I saw, for the first time in my life, a huge amount of anti-government posters and slogans. Some were well-known phrases in in Czechoslovakia 'People, what you afraid of are?', 'We have bare hands'etc. When George and I returned to the barracks, we then secretly began letting the others known about what we had seen. Unfortunately, my best friend George died in a car accident a few weeks after our return from military service. We had made plans to see other, but our destinies were not aligned with our expectations, and I never got the opportunity to see him in normal, non-military life. (By the way, in this photo, I am the second person from the right. Next to George. This was taken in 1989, in our casern in Bzenov.)
2. BEFORE YOU STARTED YOUR SERVICE, HAD YOU HEARD OF THE M10 GAS MASK?
I can't be sure I remember exactly what type of the gas mask we used for our training, but according to the information I have found, and so far I can remember –it was the M10 model. The official name of the M10 gas mask was OM10. (OM = in Czech 'ochranna maska'; in English 'protective mask'.) The model of M10 was a copy of the American gas mask M17. The newer model of M10 was called OM10M. By now, some of you will have also received this updated version of the M10, which was equipped with a connection to drink through the mask from the bottle. The mask M10 was in use from the early seventies and the model OM10M from the year 1987. So I assume from the information I've found on the internet that I had to use the M10.
I also have very clear memories from elementary school of the military exercises we had to do wearing a 'PDF-D'(or a similar type) Russian mask. We looked like a heard of small elephants. However, since the end of the Cold War this, as well as home and workplace gas mask training, have now stopped. Some people keep masks at home still, but others no longer do. The masks are no longer routinely checked and tested –it's something which has lost its importance in my country.
However, obviously the M10 is still of great importance to those of us taking part in Shane's Mask Series. So, as a matter of interest, I have found the producer of M10. The factory still exists and produces new types of gas masks and some plastic materials. Here is the link about the history (in English) of the factory Gumárny ZubříInc.
3. ON A MORE PERSONAL LEVEL, YOU HAVE SAID THAT THE M10 GAS MASK WAS THE 'SCARIEST' PART OF YOUR MILITARY SERVICE. WOULD YOU MIND TELLING US WHY?
By the time I was doing my military service, new recruits joined up once a year. Prior to this, it had been every six months –which meant that you only had six months to wait until you were no longer a 'new'recruit, and were therefore no longer subjected to such difficult military training.
The problem we faced by the time I was serving was that, in addition to our basic and educational training, once a week we also had to undergo so called 'tactical preparation. This took place about 5 minutes walk from our army barracks, where there was a hill and then forest. Typically we wore this highly uncomfortable battledress.
When I was there, the 'older'soldier who controlled the tactical preparation enjoyed it and made it hard, sometimes very hard 'like in war'as he put it. For instance, crawling up the hill and back until we were exhausted. Another typical task was dipping with a military shovel or bayonet. At that time we were young and our bodies well trained, so if we were still able to make this hard training for an hour or two, then the command came to use the gas mask – which was a handy tool at their disposal for destroying the rest of our force and energy. It was a terrible situation for some of us, particularly if the gas filter was humid, at which point it was almost impossible to breath with the mask. Each of us 'new 'recruits were checked separately, to see if the mask was being used properly –without any slot for breathing out of filters.
If you were caught deceiving them, than the commanders would fix the gas mask on to you themselves, making it so tight, that was not possible for you to remove your mask without assistance. Sometimes they would then wait until a soldier began to lose consciousness before allowing us to help him pull the mask from his head.
4. WHAT WAS YOUR FIRST REACTION WHEN YOU SAW THAT SHANE HAD STARTED THIS PROJECT? WOULD YOU STILL HAVE BEEN INTERESTED IN TAKING PART IF IT HAD BEEN A DIFFERENT MASK THAN THE M10?
At first, the idea of working with the M10 held no particular draw for me. If you look online a bit, you can see lots of photos with gas masks. But once I'd read more information about the Series, I started to communicate with Shane Balkowitsch and my target was clear. I had to participate in this project. In fact, it then came as a surprise for me that the gas mask Shane had chosen was a Czech mask!
But even if it had been another mask completely, I would still have wanted to take part. I want to do wet plate, and to be a part of such an important global art collaboration. So in this sense, the specific object or scene itself were not so essential. The most important thing about this series was first of all the group of great people, who enjoy wet plate and photography in general like me.
5 . HOW LONG HAVE YOU BEEN TAKING WET PLATE IMAGES?
In the spring of 2012, I attended my first private workshop for Collodion Wet Plate photography. Right from the start, the appeal of working with wet plate was so strong; I had no other option but to do it. I was always amazed when I saw work of the old masters. I was interested in the process they used for making such a great photos. Afterwards I discovered they'd done it with collodion –both wet and dry. I wanted to try it, to manage it, to produce pictures with nearly the same process and chemistry as they had done many, many years ago.
My first plate I made at home was in December 2012. My dream is to build an old style wet plate north light studio in my attic, in 2015.   Until recently, photography has been a hobby for me, but now I'm also starting to do it on a freelance basis, working with local businesses. Unfortunately there is a limit to how much time I can devote to it, as I also have my family, regular work, house work, and only then some time to deal with photography. I am still trying to overcome this state and do more and more photography. Heaven only knows what will happen. Like everyone else, I use my mobile phone –but I also enjoy DSLR, pinhole camera, SLR, toy cameras, and medium format camera. My latest toy is a Kodak 2D 8×10"adapted for wet plate photography fixed on survey tripod. Lately I've been dividing my time between analogue and wet plate cameras, and reading interesting books about photography and its history. One of my proudest highlights of 2014 is that I bought a nice old French brass lens from Alex Timmerman's collection for my future wet plate portrait photography.
And of course, I am particularly delighted to be having my first exhibition of my wet plate collodion work in my hometown of Trebic in the Czech Republic. It opens on Monday the 1st of September, and I'd love to see you there!
6. HAVE YOU ALREADY HAD IDEAS ABOUT WHAT YOU WILL DO WITH THE MASK? WILL YOU CREATE AN IMAGE THAT EXPRESSES SOMETHING ABOUT YOUR PREVIOUS EXPERIENCE WITH THE MASK, OR DO SOMETHING COMPLETELY DIFFERENT?
The first thing which came to mind was to evoke an image from the past which I still have in my brain. But after thinking about it more, I am now thinking I'd perhaps like to replace these dark thoughts with something funny and unusual. A lot will depend on how I feel when I am holding the M10 in my hands again after such a long time again. One thing I will do though, is take a careful look at all the previously created photographs to be sure that my composition will be not similar to composition of the others. It will be big challenge for me, because the work which has already been submitted is really great. In this project are so many talented people!
7. SHANE HAS SPOKEN ABOUT THE DIFFERENT ASSOCIATIONS ANY GAS MASK IMAGES BRING. AS SOMEONE WHO HAS LIVED THROUGH A TURBULENT TIME IN YOUR COUNTRY'S HISTORY, HAVE YOU FOUND IT DIFFICULT TO SEE MORE LIGHTHEARTED INTERPRETATIONS OF THE MASK APPEARING?
My own experience of the Velvet Revolution, during my military service more than 20 years ago, took place mainly behind casern walls. Therefore I had no possibility to be in streets like other people were. As far as I know, fortunately, gas masks were not used. The Emergency Regiment of Public Safety and Division for special purposes (the so-called Red Berets), who beat demonstrators with batons, did not used masks. Emergency Regiment of Public Safety used the infamous 'white helmets'.
Perhaps if one of these helmets had been chosen as the common prop, I might have found it more difficult to see it being joked about. But I don't feel there is anything off-limits about using the M10 as an art prop. In fact, there was a time when it was popular among young people (hippies etc.) to use the gas mask cloth bag as a school bag at secondary school. It was foppish before the Velvet Revolution, although some schools did not allow students to carry such a bag.