Wet Plate Collodion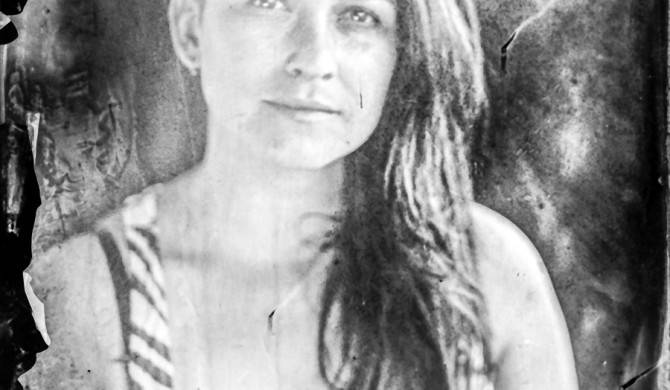 European Collodion Weekend 2014, Veldhoven, Holandsko / Netherlands
05/2014
Můj rozhovor s Rasťo Čambálem z Mamut Photo
—
My interview with Rasto Cambal from Mamut Photo.
I have made also the English subtitles. Please do not forget to turn them on in the Vimeo Player.
Takto jsem portrétoval slovinského profesionálního fotografa a mého přítele Boruta Peterlina, vytvořeno v květnu 2014, Veldhoven, Holandsko
—
Borut's portrait I created at European Collodion Weekend in May 2014 in Veldhoven, Netherlands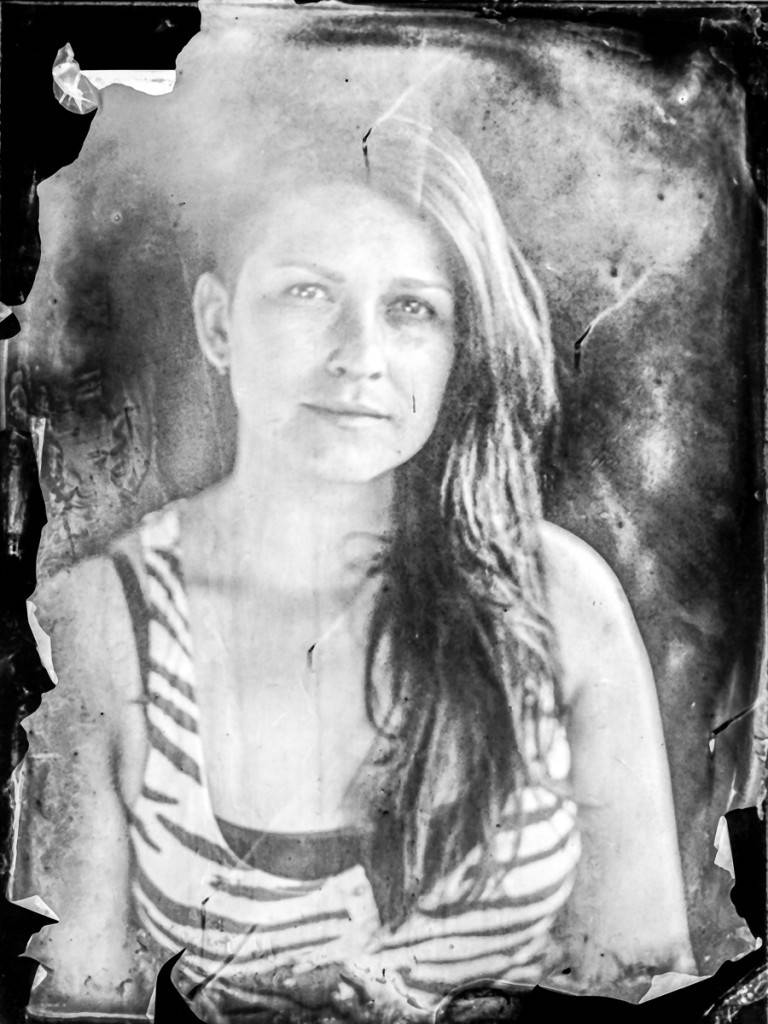 Portrét Severine, vytvořeno v květnu 2014, Veldhoven, Holandsko
—
Severines's portrait I created at European Collodion Weekend in May 2014 in Veldhoven, Netherlands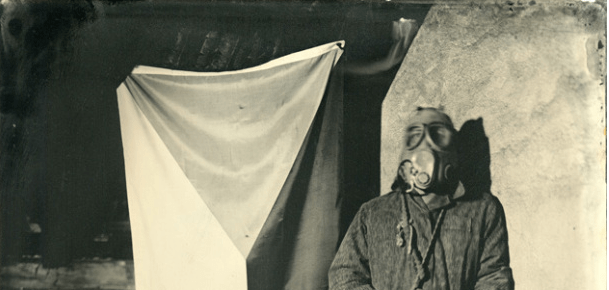 Original article link is here: THE PLATES
8″ x 10″ Ambrotype
Why this composition:
Originally I have been thinking about composition from the military environment, but when the mask arrived I changed my mind and refused to create a plate with a laying soldier in a still position somewhere in the field. This final plate tells me as follows:
The Czech flag should represent my country and background connection of the Czech Republic (formerly Czechoslovakia: http://en.wikipedia.org/wiki/Czechoslovakia) as the M10 gas mask producer. The flag was same for the Czechoslovakia (since 1920) and now belongs to the Czech Republic.

The noose around my neck means my uninterruptible connection to this gas mask M10 which I used in my two year military service. We were using the gas mask in our guard troop very often. Especially the first year of our military service was very demanding and I can remember that one guy from our group executed a suicide attempt (he survived) before using this mask in our regularly training – believe me or not. Really, end of the eighties is still in my mind.

Key for the iPhone shot image above:
1/ Air bulb shutter release
2/ Remote trigger for the studio light
Details about the preparation and composition:
The preparation of the light setup and composition took roughly about 4 hours (2 test plates included).
The red color of the Czech flag has to be on the right side; therefore the original composition with the flag was prepared vice versa. The problem was with the darkness in my attic and temperature – it was quite cold – about 3°C (37 Fahrenheit). The biggest challenge was for me to manage all plate preparation and exposure by myself. Please look at technical detail below.
 Technical details about the camera and exposure:
Full self portrait without assistance Camera: Kodak 2D, 8×10" Lens: Schneider Kreuznach, 300mm f 5.6 with the air rubber mechanical cable release (manually pressed with my right foot and held during the exposure) Lightning: 1x 600 W studio light with the remote trigger (manually pressed 12 times in my left hand during the exposure) Exposure time: 12 times flash with the studio light at 600W. This means that I was standing for about 30 seconds.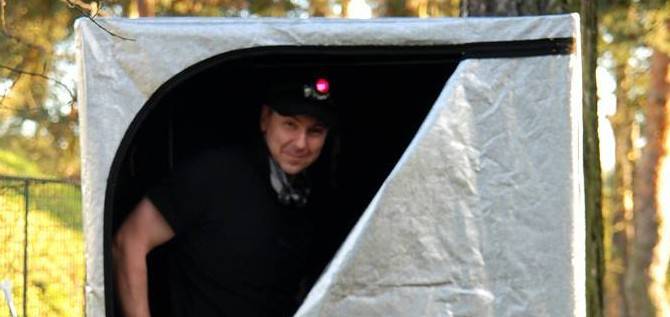 Mobilní temná komora / Dark tent
Tento stan používám pro přípravu a vyvolávání fotografií, které jsou vytvářeny technikou mokrého kolódiového procesu.
O jakou techniku se jedná? Vizte Wiki zde.
—
This tent is used for preparing and developing photos that are created with wet collodion process photographic technique.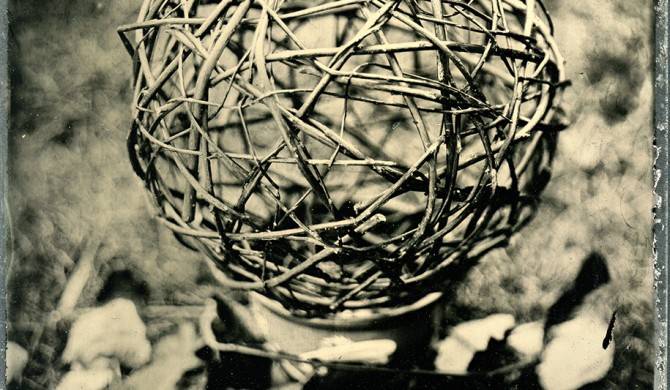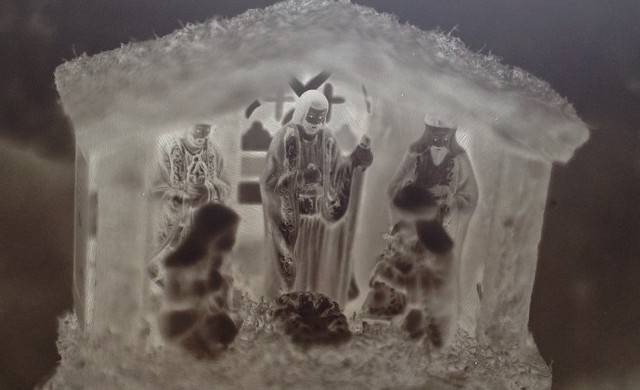 Asi po roce a půl práce s kolodiovými pozitivy jsem chtěl jít dál – pracovat s vlastními negativy.
Výhodou negativu, jak asi většina z nás ví, je možnost jeho opětovného použití.
Filmový negativ se v temné komoře používá pro výrobu fotografií na fotopapír nebo jiné světlocitlivé materiály. U kolodiového negativu tomu není jinak.
Využití je obdobné jen s tím rozdílem, že skleněný negativ se většinou používá na tzv. kontaktní tisk 1:1, viz Wikipedie.
Jedním z mých milníků v poznávání negativního kolodiového procesu bylo seznámení s profesionálním slovinským fotografem jménem Borut Peterlin. Jeho oficiální web je borutpeterlin.com, ale mnohem více aktivní je na svém blogu, který píše již asi deset let.
Borut vystudoval fotografii na FAMU v Praze a mimo jiné i díky tomu máme k sobě coby "cizinci" mnohem blíže.
Loni v létě jsem odjel do Slovinska, abych s Borutem absolvoval privátní workshop tvorby kolodiových negativů.
Borut, který se osobně účastnil několika workshopů v USA v George Eastman House v Rochesteru patří v Evropě mezi nejvíce zapálené profesionální fotografy, které jsem dosud poznal. Fotografie je jeho život. Jeho workshop pro mne byl spontánní a správná volba.
Předal mi během dvou dnů maximum informací, které v George Eastman House získal a pomohl mi tak snáze pochopit základní tvůrčí prvky pro další práci.
Borutova práce je pro mne nesmírně inspirativní a zajímavá.
Zcela určitě na mém blogu vydám samostatný článek o tomto umělci, se kterým jsem již delší dobu přátelím.
—
After about a year and a half of working with collodion positives I wanted to go further – to work with my own  collodion negatives.
The advantage of negative, how a lot of people know, is a possibility to use it for contact prints and other purposes.
Film negatives can be used in a darkroom to print photos on photo paper or other light-sensitive materials and with collodion negatives is the using almost the same.
Usage is similar with the only difference that the glass negatives are usually used for the so-called contact printing 1:1, see Wikipedia.
One of the milestones in my learning process of collodion negatives was my connection to a professional photographer Borut Peterlin. His official website is borutpeterlin.com, but much more active is his blog, which has been written by Borut for more than ten years.
Borut studied at FAMU in Prague and thanks to that fact we have much closer to each other.
Borut, who personally attended several workshops in the USA in George Eastman House, Rochester is one of Europe's most enthusiastic among professional photographers. To choose his workshop was for met the right choice. He gave me within two days maximum information he had got in the George Eastman House  and helped me to more easily understand the basic  elements for my future work.
Borut's work is for me extremely inspiring and interesting.
I will write on my blog an extra article about my friend Slovenian artist Borut Peterlin.
—
Náš testovací slaný tisk z našeho kolodiového negativu. Léto 2013, Slovinsko
—
Our test salt print from the collodion negative. Summer 2013, Slovenia